With the Octo DSP Accelerator card as flagship, Universal Audio's UAD-2 Series of Powered Plug-Ins offers new Custom and Ultimate software bundles and 'more affordable pricing' on UAD-2 Solo, Duo, and Quad DSP Accelerator models.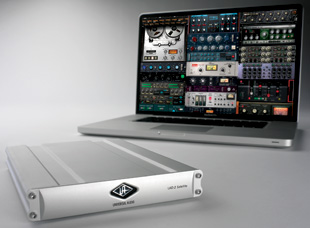 The new UAD-2 Octo DSP Accelerator features eight SHARC processors on a single PCIe card and runs on a PCIe-equipped Mac or PC workstation, or compatible expansion chassis –twice the processing power of its UAD-2 Quad DSP Accelerator counterpart.
UAD users can now select any three individual UAD plug-ins within 45 days of UAD-2 hardware registration. With a library that includes Ampex, Manley, Lexicon, Studer, EMT, Empirical Labs, Neve, SSL and Roland, UAD-2 Custom bundles deliver a potential software value of more than US$1,000 (depending on UAD plug-ins selected), at significant savings to new UAD-2 users.
Combining the most powerful UAD-2 DSP Accelerator hardware with the most complete UAD plug-in bundle, the UAD-2 Octo Ultimate (PCIe card format) and UAD-2 Satellite Quad Ultimate (FireWire format) packages offer an extensive library of more than 55 UA-developed plug-ins, up to and including UAD Software v6.3.
Alongside the new UAD-2 hardware and software introductions, UA is debuting new, more affordable pricing for the Solo, Duo, and Quad PCIe hardware, and UAD-2 Duo and Quad Satellite FireWire hardware. All UAD-2 Core models include the Analog Classics plug-in bundle, featuring the LA-2A Classic Audio Leveler, 1176LN/1176SE Classic Limiting Amplifiers, Pultec EQP-1A, and RealVerb Pro plug-ins. Additional UAD plug-ins can be purchased from UA's Online Store.
'Not only has the processing power doubled with the UAD-2 Octo model, but it's now easier for users to customise their UAD-2 packages right out of the box,' says CEO and Founder, Bill Putnam, Jr. 'And with our new aggressive pricing for Solo, Duo, and Quad Core models, UAD-2 is now even more accessible to producers who want to add authentic analogue tone in their recordings.'