Fraunhofer IIS and Sonnox have released the second generation of the Sonnox Fraunhofer Pro-Codec Plug-In.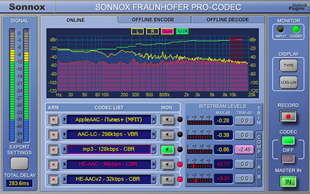 Initially released in 2011, the Pro-Codec v2 introduces the ability to master for iTunes and supports the latest multichannel audio codecs.
For the first time, the Pro-Codec Plug-In enables engineers to use Apple's iTunes Plus codec for real-time auditioning, making it a time-saving tool to efficiently mix directly for the Mastered for iTunes. Sonnox has added Apple's iTunes Plus codec to the Plug-In to enable the exact clipping behaviour of the iTunes encoding chain to be monitored, and levels corrected if necessary, saving time and ensuring high quality output during the mixing process.
In addition, Sonnox and Fraunhofer have integrated the latest MPEG Surround codec, along with Advanced Audio Coding Low Complexity (AAC-LC) multichannel and High Efficiency Advanced Audio Coding (HE-AAC) multichannel support, making the codecs conveniently available for producers of surround music. These codecs provide high audio quality for surround sound mixing and are used in surround broadcasting and streaming.
The Pro-Codec v2 continues to provide Fraunhofer implementations of all major MPEG audio codecs and lossless codecs such as mp3 High Definition (mp3HD) and High Definition Advanced Audio Coding (HD-AAC). This establishes the Pro-Codec as the most powerful codec plug-in available for digital audio workstations.
Version 2 of the Sonnox Fraunhofer Pro-Codec Plug-In is available now, at the same price as v1 at US$495. A free upgrade will be available for v1 owners.