TC Electronic has released the Live Aid licence, adding two loudness processing algorithms and new presets to its System 6000 MkII processor.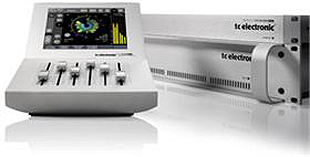 Developed for broadcasters covering no–compromise live events, a System 6000 MkII can now be used to upgrade a studio or OB truck with low-latency, high-resolution loudness processing for multiple platforms. Metering to American, European or Japanese standards is available on all outputs.
ALC6 and Dmix
ALC6 offers BS.1770 compliant Loudness Correction and True-peak limiting for mono, stereo and 5.1 programmes. This low latency, 48-bit resolution processor may be used as a loudness safety belt for hitting a -23 or -24 target directly from a live studio or an OB truck. Unlike compression or limiting of processors, ALC6 adjusts when needed, the rest of the time, audio is passed untouched.
For live processing, the Not Normalized profile is used with the option of adding gain or not. The adaptive Stridency Reduction parameter brings overly loud content under tight control, while leaving normal content untouched, and True-peak limiting on the 5.1 outputs sets a precisely defined upper limit to instantaneous level.
Measuring the loudness of a 5.1 programme can give significantly different results from measuring a stereo or a mono downmix of the same programme. These differences are systematic because measuring loudness according to BS.1770 is insensitive to inter-channel phase differences, while a downmix is not. Tight tolerances on programme loudness therefore present a dilemma when it comes to mono or stereo listeners, generally the vast majority of a station's
ALC6 introduces a new way of dealing with this issue: A 5.1 programme may be adjusted based on what it measures in 5.1, or on what it measures using a specific set of downmix coefficients.
ALC6 also helps getting a higher audio quality and more headroom out of AC3 data reduction. The downmix part of the decoder is prone to overload, especially when AC3 DRC is set to Off. On the other hand, enabling DRC inserts a crude processor that is impossible to get rid of again. Using the S6000's AC3 Codec setting with ALC6's true-peak limiter to prevent downmix clipping while preserving headroom makes it safe to switch off DRC and AC3 becomes more transparent.
TC's Trickle-down processing is now available for System 6000 MkII. DMix allows conversion of a 5.1 programme to a mobile platform stereo version in a one-step process; at high audio quality and at almost zero latency (0.8ms).
DMix packs on-the-fly Downmix, Loudness Range conversion, EQ, MS Processing, Five-band Processing and True-peak Limiting into a single engine. Consequently, the user may concentrate on a 5.1 mix while DMix takes care of stereo simulcast for mobile or web platforms.
Presets
Three new ALC6 and DMix preset banks targeted to ATSC A/85, EBU R128, ITU-R BS.1770-2 and TR-B32 requirements are included with the Live Aid license. DMix presets include acclaimed iX types with image enhancement for listening in headphones or to desktop speakers.
With the new software, System 6000's integrated Radar Loudness Meter, LM6, also gets two new functions: The meter may now show loudness units in LKFS rather than LUFS, and a momentary loudness warning threshold may be set. Real-time loudness warnings are visible in the remote application on a Mac, a PC as well as on the TC Icon hardware unit.
New software version 5.50 for System 6000 MkII can be downloaded free of charge from TC's website.
Download: www.tcelectronic.com/system6000support