Plugin Alliance has released the Brainworx bx_saturator, alliance founder member Dirk Ulrich's M/S mastering tools plug-in.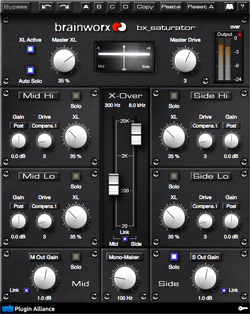 The latest addition to Brainworx's Rock 'n' Roll line, the plug-in offers M/S and multi-band saturation processing for mastering mixing, and sound design applications. 'Recording and mixing instruments and vocals using the Mid-Side (M/S) technique is one of the secret weapons that professional audio engineers and producers use when they want to capture a performance in a way described by most listeners as, natural-sounding, wide and big,' Ulrich says.
M/S recordings are mono-compatible and, although bx_saturator brings a mono/multi-mono version of the plug-in to the musical mix, the stereo M/S version of the processor is considered by Brainworx to be 'the definitive plug-in for thickening or boosting any stereo signal or mix in a more discrete way than ever before'.
As with other Brainworx bx_ prefixed plug-ins, bx_saturator users can record Mid and Side tracks individually to retain total control over the stereo information until the final stage of production; as implied by name. It can be used on individual tracks or applied to the stereo master channel in the M/S stereo model. Brainworx's 'True-Split' crossover technology ensures that Mid and Side channels are always in phase.
Available in 64- and 32-bit versions, Brainworx's bx_ saturator plug-in can be purchased and downloaded in all Mac OS-X and Windows formats (VST 2.4, VST 2.3, RTAS, AU, AAX) for an introductory price of US$179.
More: https://plugin-alliance.com/en/plugins/detail/bx_saturator.html