Producer/engineer/mixer Jack Joseph Puig has worked with Waves Audio to develop the PuigChild Hardware Compressor.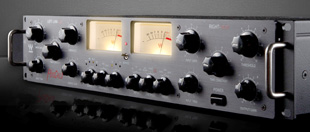 Modelled on a rare, pristine-condition Fairchild 670 from Puig's personal collection, the PuigChild 'captures every distinctive nuance of the original, along with its advanced compression techniques and incomparable sound – achieving every detail of its rich harmonic complexity and functionality'.
When Waves set out to model the Fairchild, the company turned to Puig, who granted Waves exclusive access to his finest unit. Puig then worked closely with Waves' R&D group for more than two years, through every phase of the development process.
Featuring dual mono, linked and lateral vertical stereo modes, 16/24-bit digital I/O and high-grade AD/DA converters the unit is housed in a rugged 2U-high, 19-inch rack unit
'The PuigChild Compressor truly captures the vibe of the original, and as a piece of hardware, it allows us to have the same tactile experience, with the same unique sound,' Puig claims. 'It's like a dream come true.'
Waves PuigChild is available now; US MSRP, US$3,680.
More: www.waves.com