Digital audio signal processing specialist iZotope has released Ozone 5 and Ozone 5 Advanced.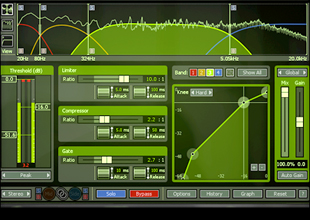 Each module in Ozone 5 has been updated with refined signal processing algorithms, promising 'a new level of mastering quality'. An updated interface allows finer parameter control and makes important features more readily accessible. iZotope is confident that while new users are spared a steep learning curve while experienced users will recognise the established interface.
An update to iZotope's software mastering suite, Ozone 5 Advanced is a professional mastering suite that expands Ozone's feature set with individual component plug-ins, extended features and new meter bridge.
Each module in Ozone 5 Advanced is equipped with extended features specifically for mixing and mastering professionals. Each of the mastering modules can be used as individual plug-ins. The new meter bridge provides a suite of audio analysis tools to help visualise changes made during the mastering process, troubleshoot problematic mixes, and compare reference tracks.
'Whether you're a musician, engineer, or mastering pro, Ozone 5 lets you master music and other audio simply and efficiently,' says iZotope Senior Product Manager, Nick Dika. 'Ozone 5 is the biggest update we've ever offered, with improvements that will appeal to Ozone experts and new users alike. Ozone 5 Advanced is designed to set a new industry standard for mastering tools. Advanced includes many exclusive features, and offers mixing and mastering engineers an even higher level of flexibility, precision and control.'
More: www.izotope.com