Waves Audio has released the Clarity Vx DeReverb Pro plug-in, an advanced AI reverb removal for dialogue and vocals, and the Clarity Vx DeReverb plug-in, an instant AI room and reverb removal for voice.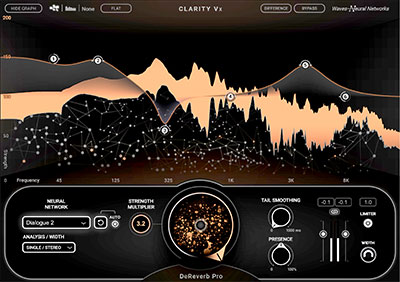 Designed for postproduction engineers, dialogue and ADR editors and re-recording mixers (and an extremely powerful tool for producers and mixing engineers as well), Clarity Vx DeReverb Pro enables AI-driven reverb removal from voice, providing users with a highly efficient dialogue-editing workflow. Clarity's AI technology dries recordings instantly and in real time, delivering immediate results.
Clarity Vx DeReverb Pro gives users complete control over processing, ensuring extremely accurate results. Six flexible precision-processing bands allow users to de-reverb problem frequencies, while added power offers the ability to push the processing bands up to 200 per cent de-reverberation in areas that require it. For instance, if mixing the dialogue during a wide shot, users can automate the Tail Smoothing control to maintain some of the original space, and then slowly curb the 'verb' as the camera moves in closer.
For on-location recordings with long tails, Clarity will curb the 'verb' while retaining desired production sounds. When mixing a feature vocal with pre-existing reverb, users can tame low and high-frequency tails and preserve the reverb's character.
For content creators, podcasters, musicians and producers, Clarity Vx DeReverb's AI technology delivers instant removal of room sound and over-reverbed voice recordings. When recording in an untreated environment, a significant amount of room sound and reflections is also inadvertently captured. Whether a podcast shot in a living room, an inspiring voice memo perfect for a song but sounding too roomy, or sampling a clip from social media, Clarity Vx DeReverb's AI technology does the heavy lifting, instantly solving room and reverb problems and giving you high fidelity, and professional-sounding vocal and dialogue recordings regardless of the room's acoustics.
Clarity Vx DeReverb Pro features:
The next generation AI voice processing.
Instant reverb removal for dialogue and vocals.
Fast and seamless workflow with intuitive GUI.
Power, precision and control for voice dereverberation.
Real-time workflow; fully automatable parameters.
Toggles for solo, bypass and delta.
Trained on all types of acoustic spaces.
Waves Neural Networks technology.
Six flexible processing bands.
Presence control to restore organic voice frequencies.
Dedicated neural networks for dialogue and sung vocals.
More: www.waves.com