Black Lion Audio has released Seventeen 500 as its 500-series take on the classic 1176 compressor, offering a redesigned and improved IC-based front-end and features unavailable on original hardware.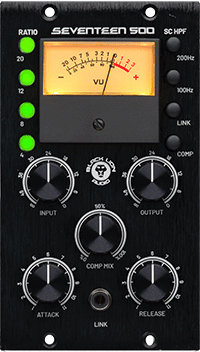 Duly differentiating it from the classic 1176 compressor, Seventeen 500's front-end circuit is coupled with Black Lion Audio's custom-designed output transformer to achieve a bottom end that balances out its open top end. It offers a clean, punchy, modern sound under light compression and a more colourful vintage character when pushed.
Bringing proprietary power decoupling and using high-grade Nichicon signal capacitors, the boutique audio company has also a frequency-adjustable side-chain for preventing unwanted over-compression triggered by big low-frequency signals (such as kick drums) and a Comp Mix (wet/dry mix) for blending the dry signal with the compressed signal. The unit also includes stereo linking.
Seventeen 500 allows for an 'all-buttons-in' mode, making it easier to simultaneously engage multiple ratio controls than on classic 1176 compressors. Additionally, Seventeen 500 makes use of modern buttons that are intended to be simultaneously depressed, rather than push-buttons styled on vintage automobile radios.
Seventeen 500 is available with a MAP of US$499 and an SRP of €665 (including VAT).
More: www.blacklionaudio.com