Solid State Logic has further expanded its SSL Complete subscription offering with the SubGen plug-in.
Developed around an advanced, natural-sounding bass synthesis algorithm that uses wave inversion to generate a bipolar waveform an octave lower than the source material, SubGen's four configurable bands enable users to dial in extra bass – whether the requirement is to addi depth and weight to an instrument or rebuild low-frequency tracks that have been poorly recorded.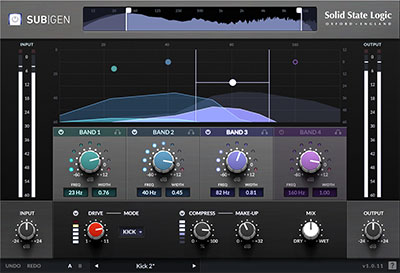 SubGen presents an easy-to-use interactive interface for controlling parameters such as gain, width and frequency for each of its four synthesis bands, while offering workflow enhancements including per-band soloing, mix lock, and built-in contextual help.
Three saturation modes (pre, kick and bass) can be used in combination with a gain-compensated drive control to add harmonic character for different sources. Sub-bass dynamics can be controlled and 'glued' to the original source material using the onboard compressor module. The all-in-one mix allows blending any combination of wet and dry signals from a single parameter, as well as parallel compression and punch. Ggentle low- and high-pass filters are available to help tame any generated bass or cut unwanted high frequencies.
'SubGen delivers yet another sonic dimension to our SSL Complete portfolio of plug-ins.' says SSL Plug-ins Product Manager, Jon Sandman. 'It can be used in a highly creative capacity as a generative sub-bass synthesiser to add depth to almost any instrument, it can also quickly remedy tracks suffering from a weak low-end, while being a great tool for generating LFE content for a film mix.'
The new plug-in is available now in several formats, including VST2, VST3, AAX and AU as part of the SSL Complete subscription.
More: www.solidstatelogic.com