Black Rooster Audio has announced the TD-201 vintage tape echo plug-in.
Following the tradition set down by the US-designed Echoplex or its British-built Watkins/WEM Copicat counterpart, Roland began working on its own multi-head tape echo using a free-floating quarter-inch tape and spring reverb housed in a rock-solid tape chamber.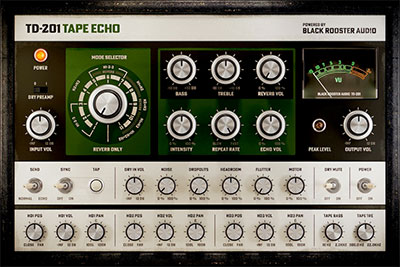 Proving itself suited to touring, and more stable and reliable than anything on the market at the time, the RE-201 Space Echo became a best-seller for the Japanese company from its launch in 1974.
Black Rooster Audio has designed its TD-201 plug-in as a virtual take on the vintage tape echo, bringing the sound of an analogue classic into the 21st century as an in-the-box tape delay, delivering the vintage character of increasingly-inaccessible hardware in an easy-to-use reimagining with extensive customisation options.
The TD-201 Mode selector allows for seamless transitioning between virtual playback 'heads' and mixing reverberation and delay – as with the vintage original. Further fine-tuning the echo is possible by adjusting the depth, level and stereo pan per head in the lower panel – nine parameters in all.
The tape speed can be synchronised to DAW track tempo with the Sync control; when using this feature, the echo will also follow the impulse initiated by the Tap button. Those wishing to go 'full-vintage' are offered a range of fine-tuning parameters providing control over Noise, Dropouts, Headroom, Flutter and Motor – all of which are hardware machine attributes. Adjustable gain staging provides TD-201 users with the ability to control both the pre-processing input gain level and the post-processing output gain level.
DSP operations are pipelined using the latest Apple Silicon and SSE2 (Streaming SIMD Extensions 2) instruction sets to ensure that the TD-201 plug-in benefits from a high-performance operation despite its very complex computations. The GUI supports high-pixel density on both macOS and Windows systems.
The TD-201 plug-in is available to purchase for US$99 as a 64-bit AAX, AU and VST-compatible plug-in for macOS (10.9 or later) and AAX and VST-compatible plug-ins for Windows (7 or later) directly from Black Rooster Audio via its dedicated webpage.
See also:
Echoes from the Past