The Eplex7 DSP Cardiam D-142k is a boutique VST plug-in equaliser inspired by classic American coil and vacuum tube equalisers from the 1950s and '60s. It is characterised by a soft 'passive style' sound and was designed using advanced emulation of individual circuits and blocks, as well as sampling analogue hardware.
'We hate harshness, sharp digital highs and transients full of aliasing and artifacts,' the company says. 'This often occurs when you boost mids, highs with a digital equaliser or digital analogue emulation plug-ins. On ordinary cheap monitors you might not hear it so much when mixing because cheap near-field monitors don't have enough detail, but after loud mastering everything will show errors and sound problems will come to the fore and will be magnified by loud mastering like under the microscope. However, if you take the recording to a club PA system, all the harshness is amplified.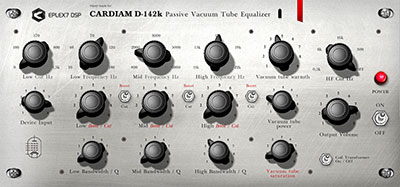 'We have been searching for more than seven years to eliminate digital harshness and artifacts, and get as close as possible to the quality of analogue outboard equalisers and mixing consoles. In the curse of this, we invented technologies like Golden Aurea technology and Zero Harshness technology.'
Analogue devices are usually made up of individual modules (PCBs) connected internally by cables. These are made up of components such as resistors, transistors, capacitors, coils, tubes, etc. The values and behavior of individual components fluctuate over time and behave nonlinearly – they create a natural saturation not only at the output but also within the individual submodules.
'Unlike most common plug-ins, we do not look at emulation as just one code,' the company says. 'First of all, we try to individually code each sub-module separately, to imitate its behaviour including its nonlinearities and changes of values over time. In order to achieve the best possible results, we decided to use a hybrid technology based on nonlinear algorithmic emulation of individual modules and, to a small extent, sampling of real hardware. We use advanced mathematical and DSP methods. We believe that this combination provides the best ratio of analogue sound quality, software stability, and natural sound.'
The Cardiam D-142k Equalizer also emulates the isolation transformers used in analogue devices to separate the circuit from the surrounding world - the sound is not transmitted by a cable but by electromagnetic induction between two windings of the coil - it is mainly used to protect against overvoltages, interference. In addition to functional reasons, transformers color the sound, softening highs and transients.
Key features:
Three passive boost/cut circuits.
Low Frequency boost/cut circuit 10-180Hz.
Mid Frequency boost/cut 800Hz-6kHz.
High frequency boost/cut 11-22kHz.
Low cut 0-1.5kHz.
Vacuum tube circuit with Warmth, Power and Saturation parameters.
Input/Output Coil transformer On/Off switch.
Zero harshness technology
Clean analogue top and transient technology.
Vacuum tube emulation technology.
Compatibility: Windows 32-bit/64-bit VST host.
More: https://eplex7.com/cardiam-d-142k-vacuum-tube-passive-equalizer-plug-in-vst