Dear Reality has launched its Exoverb reverb plug-in, claiming to bring an 'as yet unheard three-dimensional depth and width perception' to stereo productions.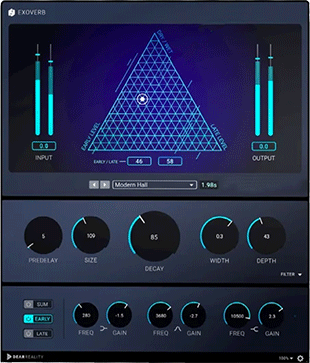 The plug-in offers 50 hand-tailored acoustic scenes presented in four categories – Ambiences, Rooms, Halls, and Plates – that are tuned for modern music production. Each preset is based on multiple synthesised impulse responses (IRs) developed with Dear Reality's proprietary software and expertise in immersive audio.
'Though spatial audio technology offers new perspectives on sound and the listener's immersion, it is often overlooked that stereo can produce an immersive soundfield with realistic depth, too – if done right,' explains Dear Reality Co-CEO of Achim Fell. 'With Exoverb, we unlock this capability by applying the fundamentals of our spatial audio technology to our first pure stereo reverb plug-in.'
Maintaining the company's ease-of-use philosophy, Exoverb features a straightforward user interface where the reverb can be perfectly adapted to an individual mix. An triangle pad helps select the perfect blend of reverb, early reflections and dry signals by setting the ratio of the early reflections and the late reverb on the x-axis and the level of dry and wet signals on the y-axis. Moreover, Exoverb provides direct access to commonly used parameters such as Pre-Delay, Size, Decay, and Width, without requiring the use of sub-menus.
'The perception of auditory events is inseparably linked with their position in space,' explains Dear Reality Product Owner, Felix Lau. 'The fascination for this relationship between the position of sound in space and how its position is perceived and recreated by the listener's brain is what has brought me into spatial audio in the first place. With Exoverb, we are now making this relation in space accessible for stereo productions.'
Further, Exoverb provides three separate EQs to shape early reflections, decay and the summed signal. Each three-band EQ includes a low-shelf, a parametric, and a high-shelf filter to get the optimal reverb sound for the mix.
Exoverb is shipping now in the Dear Reality store. During the introduction phase (until 30 November 2022), the plug-in is available for US$69/€69/£59 (plus local VAT), from December, the price increases to US$99/€99/£89 (plus local VAT).