Waves Audio has released Spherix, a suite of two plug-ins intended for use on the beds (fixed channels) of immersive 7.1.4/7.1.2 mixing environments such as Dolby Atmos.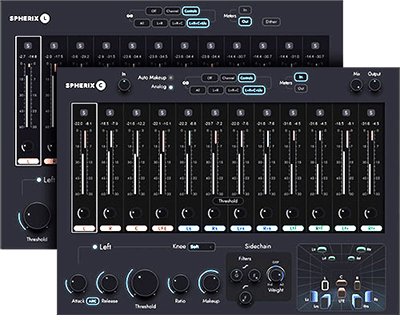 Comprising a compressor and a brickwall limiter, Waves Spherix sports 'quick-access controls', for each channel presented below the metering, allowing parameters to be adjusted quickly across all channels, without swapping from one channel to the next. It is possible to tweak multiple channels with a single touch (multi-mono) using Control Linking to group multiple channels by speaker zones – tops, surrounds, a choice of three front-wall groupings (L+R, L+R+C, L+R+C+LFE), or all channels together. The settings of multiple channels can now be addressed with a single mouse click, to allow mixing quickly in multi-mono while maintaining relative settings between channels. 
Grouped speaker zones can be adjusted instantly with the Channel Linking function, which groups channels based on speaker zones – this compresses or limits each entire zone as a bus, rather than as separately processed channels. Compression/limiting of tops as one unified zone, and sides and rears as another, with the front-wall (L+R, L+R+C, or L+R+C+LFE) as yet another zone is possinle with a unified compressor or limiter applied instantly across all channels in the group.
The innovative Weightcontrol – a Spherix exclusive – offers adjustment of the balance and content of the sidechain that feeds channel-linked groups. This can be set to allow the grouped channels to react more to each individual channel, more to the entire group or more to all other channels – including points between.
Multichannel meters offer a display of the levels and gain reduction of all channels, without manually switching between channels.    
Key features:
Includes the Spherix Compressor and Spherix Limiter.
Dedicated workflows for 7.1.4/7.1.2 immersive formats.
Process grouped speaker zones using Channel Linking.
Adjust multiple channels (multi-mono) with Control Linking.
Front-wall linking options: L+R, L+R+C, L+R+C+LFE.
Mix faster with quick-access controls in a multichannel layout.
Control multichannel sidechain reaction using the Weight control.
Monitor levels and gain reduction with multichannel metering.