Waves Audio has announced the Waves Harmony plug-in, able to create instant vocal harmonies of up to eight voices generated from a single voice. The character and texture of each voice can be customised with pitch and formant control, panning, delay, filtering and drag-and-drop modulation.
Waves Harmony enables users to take a solo vocal and surround it with epic multi-part harmonies, spread among low and high, male and female, light and heavy, live in real time. Midi control allows backing vocals to be played on stage in real time.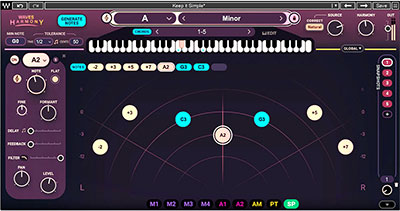 Waves Harmony gives three choices of workflow intended to suit the requirements of producers, songwriters, mix engineers and composers, and is easily adaptable to differing creative processes.
Three workflow modes are available – Automatic, Playable Midi and Graphic.
Automatic mode enables the plug-in to instantly create harmonies on any vocal by scrolling through a bank of chord presets and selecting the appropriate preset. Using a Midi keyboard, Playable Midi mode allows notes and chords to be played in real time to harmonise with a voice having set the key and scale. Graphical mode can be used to draw in harmonies on the visual display – arrange, tune, shift formant, delay, filter and pan – then adjusted per song section using snapshots.
Beyond harmonies, the Waves Harmony plug-in is a powerful vocal FX palette in any production or mix, supporting layering of thick vocal stacks and creation of doubling effects, as well as complex delay arrays, creative voicings, modulated melodies and sequencing.
More: www.waves.com