The latest plug-in in Focusrite's Fast Bundle is Fast Limiter, designed to help make tracks release-ready using AI and deep control.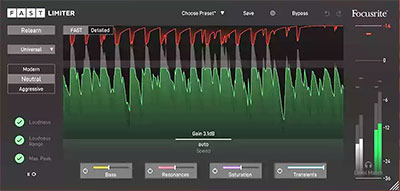 Fast Limiter offers a choice of Flavours – Modern, Neutral or Aggressive – to change how the plug-in influences a track's sound. AI analyses the audio to select the optimum settings matching to the audio's characteristics.
With AI having set a solid foundation, users can go deeper by adjusting Gain, Saturation and Resonance. Fast view enables users to quickly adjust Bass, Resonances, Saturation and Transients settings to get the most out of the mastering process. Detailed view presents the full controls for Fast Limiter, including Gain, Limit, and Speed to adjust the limiter and volume output.
The Collective from Focusrite is a creative hub aiming to provide 'top quality plug-ins to its users and help them on their music making journey'.
More: https://collective.focusrite.com/products/fast-limiter