Audified has announced the U73b Compressor plug-in and associated U78 Saturator spinoff.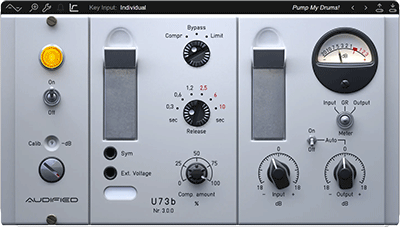 The Audified U73b plug-in is a software emulation of the 1960s-vintage Telefunken U73b tube-based vari-mu (variable gain) German broadcast compressor/limiter that was also adopted for vinyl mastering into the early 1980s. The plug-in takes the hardware's tube saturation and adds low-pass and high-pass filters, alongside a tone filter for adding colouration.
Audified releasing its first version of the U73b Compressor effect plug-in in 2015, following it with an updated version with improved algorithms and a number of other improvements (including an eye-catching GUI, which was even switchable from the German-only wording of its plug-in predecessor to English), making this the 'third-generation' plug-in.
Version 3.0.0 is bolstered by a GUI gateway to that 1960s-vintage sound, as well as improved compatibility. An automatic (optional) output level control, additional high-pass filter (to switch between vintage and modern sound), external sidechain capabilities, and three programme-dependent and three fixed release times have been added.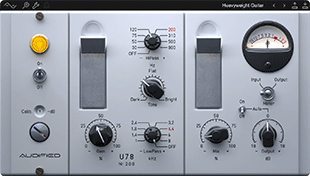 The U78 Saturator spinoff takes this emulated analogue saturation to the next level with filters – HiPass sets the cut-off frequency of the high-pass filter, which comes before the saturation circuit in the signal path, ranging between 30–800Hz; LowPass sets the cut-off frequency of the low-pass filter, which also comes before the saturation circuit, ranging from 1–8kHz – added alongside a Tone control to dial in (or out) the tone filter, with lower settings producing dark sounds with more low frequency content while higher settings result in bright, sparkly sounds. Sharing some features and workflow with its U73b Compressor 3.0.0 sibling, the 'second-generation' U78 Saturator – updated to v2.0.0 – also improves upon its 2016 predecessor, bolstered by an updated GUI, improved saturation circuit, and improved compatibility.
The U73b Compressor (v3.0.0) is available to purchase at US$149 from Audified's online shop. The U78 Saturator (v2.0.0) is available to purchase at US$149. U73b Compressor (v3.0.0) and U78 Saturator (v2.0.0) are also available as part of the German Studio Bundle.