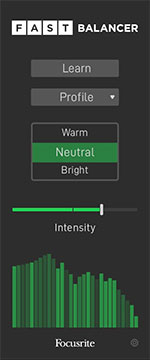 Following the earlier Fast Verb, Fast Equaliser, Fast Compressor and Fast Reveal the Collective from Focusrite has announced Fast Balancer, promising an 'effortless way to bring tracks to life with an AI-driven EQ and simplified controls'.
The AI-powered plug-in is 'trained' on more than 500,000 real-world audio files stemming from vocals, electric and acoustic guitar, bass, drums and other sources. No longer restricted by presets, Fast Balancer analyses audio, referring to all of its 'knowledge' and applying unique settings with the instrument profile in mind. The frequency spectrum of voice and instruments can be balanced with a single click, delivering a professional sounding mix, without needing to tweak multiple settings.
Having set the tone for the instrument, users then select how much of Fast Balancer's EQ is affecting the audio with the Intensity slider. From strong to subtle, the slider is positioned to give sounds best for the track, and offer a frequency balanced mix on the fly. Users can choose between Warm, Neutral, and Bright to add an instant flavour to their instruments so that they can capture the mood for their mix and stay in the creative flow.
Fast Balancer is free of charge for Focusrite- and Novation-registered hardware owners via the customer portal. For customers who are not registered, the plug-in is available for US$49.99/€49.99/£39.99.