Heritage Audio has announced the Herchild Model 660 and Model 670 tube-based compressors, offering modern-day alternatives a studio classic.
Inspired by the fifties-vintage Fairchild Model-660 (mono) and Model 670 (stereo) that have become collectors' items commanding six-figure price tags, the Herchild Model 660 compressor is based around 11 tubes and five transformers, including custom Cinemag and AMI exclusive models.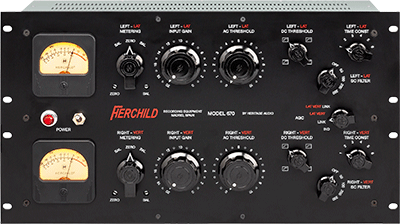 Heritage Audio has added to the originals' functionality to make its own models more practical to use in a modern-day studio setting – such as direct access to the continuously variable slope (DC Threshold) control that was only available on the original via an screw adjust hidden from immediate access.
With the SC Filter control, Heritage Audio has provided four different frequencies to choose from, tailored to suit a spread of user's needs. The exact attack and release times are replicated, with a Time Const control combining adjustment to the progressively developing curved 'ratio' and the 'knee' simultaneously through four different low-pass filter settings, varying from a gentle slope to a more pronounced and aggressive slope.
The Herchild Model 670 circuitry involves 22 tubes and nine transformers, including custom Cinemag and AMI exclusive models – effectively offering two Herchild Model 660 units in a two-channel device and allowing each channel to be used independently or linked together. There are actually four modes of operation – Ind (individual), Link, Lat/Vert (mid/side), and Lat Vert/Link – the two link modes opening up mix options beyond the boundaries of an original Fairchild Model 670.
The Herchild Model 660 and Model 670 are shipping with an SSP of €5,499 (including VAT) and €9,999 (including VAT) respectively, and an MAP (Minimum Advertised Price) of US$5,499 and US$9,999 respectively. US distribution is via RAD Distribution.