Heritage Audio has announced the Súper 8 eight-channel transformer-coupled class-A mic preamp with 24-bit 192kHz ADC.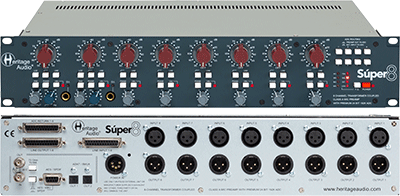 Offering eight channels of Heritage Audio's 73-style preamp with simultaneous conversion in a single standalone device, the 2U-high rack-mountable Súper 8 uses a three-stage preamp, including exclusively-designed Carnhill transformers on each input and output. Providing gain of 80dB, the Súper 8 preamps have +48V phantom power, a Line button to prepare the input for line level signals, a Phase button, and a Low Cut button offering a -3dB cut at 80Hz.
The first two channels also have a Lo-Z (low impedance) button that changes the input impedance from 1.2kΩ to 300Ω, a Pad button to reduce the input by -20dB, Heritage Audio's JFET DI, as well as a sweepable low-cut filter.
Súper 8's 24-bit ADC offers selectable sampling frequencies ranging from 44.1kHz to 192kHz, as well as the option of syncing it to external word clock. With three different digital output options (Adat/SMUX, AES/SPDIF and AES/EBU) available, Súper 8 offers to turn any audio interface into a high-quality professional recording front end.
Súper 8 feature also offers ability to have either the direct output from the preamp sent to the ADC or to route an external signal to the ADC from a DB25 connector on the rear panel. Selectable per channel, this opens up further flexibility and options to the user. It is also possible to use Súper 8 as a standalone convertor when not using its preamps.
Súper 8 is shipping now with an SSP (Standalone Selling Price) of €4,399 (including VAT) and an MAP (Minimum Advertised Price) of US$3,999.
US distribution being handled via RAD Distribution.