Waves Audio has released the Waves Nx Virtual Studio Collection, giving virtual access to the acoustics and monitoring systems of world-famous mixing rooms, on any pair of stereo headphones.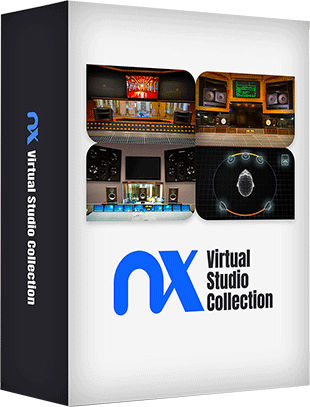 The Nx Virtual Studio Collection of plug-ins brings together acoustic models of world-class studios, offering the likes of Ocean Way Nashville, Chris Lord-Alge's Mix LA, Germano Studios New York (originally The Hit Factory), and the original Waves Nx Virtual Mix Room for finishing mixes in acoustically superior mixing environments.
Each Nx plug-in features several monitoring systems from the original studios, emulating the acoustic response of studio classics including NS10s, high-end Ocean Way and Exigy monitors, or a total of four studios and 12 stereo and surround monitoring systems.
Nx plug-ins are powered by Waves' Nx technology for immersive spatial audio. Waves Nx uses channel crosstalk, inter-aural delays (ITD), filters (ILD), early reflections, and head motion tracking to replicate the immersive experience of hearing audio in the real world. All these are coupled with precision measurements of the actual studios, to deliver a faithful three-dimensional representation of the original acoustic experiences.
Bundle features:
Acoustics and monitoring systems of world-renowned studios.
Four studios, 12 monitoring systems.
Nx Ocean Way Nashville.
CLA Nx.
Nx Germano Studios New York.
Nx Virtual Mix Room.
Powered by Waves Nx immersive audio technology.
Compatible with all headphone models.
Adjustable Studio Ambience.
Personalised head anatomy calibration.
Stereo and virtual surround components.
Supports head tracking via webcam or the Nx Head Tracker.
More: www.waves.com/bundles/nx-virtual-studio-collection#introducing-nx-virtual-studio