SPL has announced BiG, a double-slot 500 Series module for stereo stage processing.
'With BiG, an engineer can enlarge the stereo image in new ways that open up creative methods of sound-shaping with only three controls,' the company says. With the Range control, the frequency range to be processed is selected, while the Stage control allopws the selected frequency range to be moved backward or forwards in the stereo stage, and the Bigness control adjusts the intensity of processing.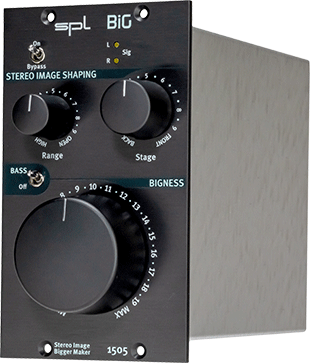 Another highlight is the switched Bass parameter, which is the same feature concept as found on the SPL Iron mastering compressor. This bass boost is created using a passive filter, which is implemented on BiG using a circuit similar to the AirBass function of the Iron.
All components for the BiG 500 Series module are installed on the circuit boards using through-hole assemble and, like all SPL devices, is manufactured in SPL's production facility in Niederkrüchten, on the Lower Rhine, in Germany.
Key specifications:
Maximum input/output gain: 21dBu.
Input impedance: 20kΩ.
Output impedance: 150Ω.
Common mode rejection: >82dB.
Frequency range: (-3dB): 10H –100kHz.
THD+N (0 dBu, 10Hz–22kHz): 0.03%.
Noise (A-weighted): -92.3dBu.
Dynamic range: 113dB.
The SPL BiG 500 Series module is set to ship in North America by Q3 2022, and is distributed by Focal-Naim America in the US and Canada, retailing for US$649.