Audified has announced Linda IronVerb, a reverb plug-in with modern features and its Ironize function's ability to add a metallic touch to the effect. The release represents a second creative collaboration with mastering/mixing engineer, musician and programmer Martin Linda.
Linda IronVerb is a classic algorithmic reverb plug-in whose Ironize modulation offers a smooth or glossy iron-like character for pads, atmospheric sounds and ambient soundscapes. Movingthe Ironize knob from Clean to Full Iron brings an alternative to 'traditional' reverb' in favour of something more unique.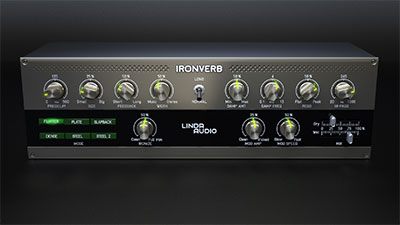 The plug-in's Mod Amp controls the amount of applied chorus/vibrato effect added to the reverb sound to be varied, while Mod Speed controls the speed of the modulation.
Linda IronVerb's namesake creator crafted it to draw out the most pleasing sounding reverbs possible with a perfect blend of responsive control. Intuitive in the way that it is laid out, Linda IronVerb sounds musical while inviting creativity in the way Martin Linda likes it.
It offers original algorithms for reverb colours and vibe, including Flutter, with periodic warbling; Plate, based on classic vintage plates used in recording studios; Slapback, with a slower attack resulting in a slapback echo-like sound; Dense, with its narrow space and high density resulting in a sharp sound; Steel, simulating a steel barrel; and Steel 2, bringing a different vibe to the Steel barrel sound with a slower attack.
Additional creative control comes courtesy of PreDelay of up to 500ms; Size, which allows shaping (Small to Big) of how the reverb sounds; and Feedback, for controlling the amount and time of reflections from Short, echo-like reflections to Long decay tails. Width permits expanding the sound image from mono to full stereo, and everything in between. Further carefully chosen controls include Amt (the amount of absorption of higher frequencies by reflective surfaces); Damp Freq, which provides a frequency choice from 0.1 to 15kHz to tailor the sound of the reverb; Reso sets the resonance/mid-frequency shaping of the damping filter; and Hi-Pass, a filter control ranging from 20Hz to 1kHz to prevent rumble and energy build-up at the bass end of the frequency spectrum. Mix, with Wet and Dry controls, allows blending of the clean signal and reverb effect.
Linda IronVerb costs US$99 from Audified's online shop, which offers further information and sound samples.