United Plugins has announced the SounDevice Digital UniChannel plug-in, a universal vintage-style channel strip offering combinations of preamps, EQ and compressors using VARM II technology.
Boris Carloff, owner of the Prague-based SounDevice Studio after which the brand that is named has been collecting vintage gear for more than 20 years. 'There is always something not working, from tubes to scratchy pots and meters to noisy caps,' he says. 'And units are so rare that you can hardly ever use them on multiple channels simultaneously. To avoid these limitations, we were inspired to create a solution that brings the best of these devices into one plug-in. The result is UniChannel.'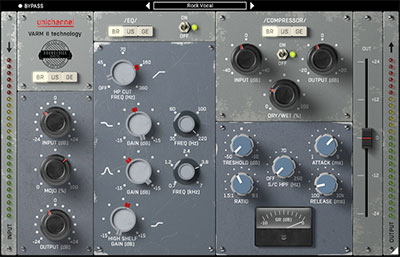 UniChannel can be connected to every channel of a mix, and allows users to change their component elements with a screen click. It has three types of preamp, three types of EQ, and three types of compressor on tap at all times – more than 27 plug-in options.
VARM II technology is based on the chaotic behaviour and randomness of the analogue (real) world, and is at the core of UniChannel. Each plug-in instance acts slightly differently, as is the case with real-world electrical parts constituting console channels.
UniChannel's preamp, EQ and compressor sections are all switchable between BR (British), US (United States) and GE (German) flavours. British channel emulates a fat-sounding transformer for aggressive bass, kick drum and rock attitude, while the US 80s-style op-amp preamp and EQ model gives mid-sounding punch for electric guitar or toms, the US 50s-style tube compressor model is a fat-sounding monster, and the full-sounding German channel features a 50s-style tube preamp, 60s-style EQ, and 50s-style tube vari-mu compressor.
The plug-in employs 64-bit internal audio processing as well as being able to handle any sampling rate up to192kHz. It also detects when to perform processing and temporarily turns on sleep mode to minimise CPU drain when not required.
SounDevice Digital's UniChannel is priced at €149 as an AAX, AU, VST and VST3-compatible plug-in (using internal 64-bit audio processing capable of handling any sample rate) directly from United Plugins.