Black Rooster Audio has released RO-Spr, a customisable spring reverb plug-in offering a collection of classic spring types and adding modern-day features for tailoring each section precisely.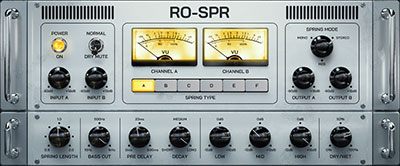 There are six singular spring types – denoted A to F – that have been modelled on hardware counterparts covering four decades of sound experiments, innovation, and heavy-duty studio usage. A signal routing system allows both mono and stereo processing, as well as an M2S mode that creates width from mono/stereo sources – Stereo sends the left/right signal to independent springs, whereas M2S sends the mono signal to non-identical springs to create bespoke width. Three-band (Low, Mid and High) EQ allows further control over the spectral behaviour, while adjustable gain staging gives users the ability to control the pre-processing input gain level, as well as the post-processing output gain level – Black Rooster Audio has separated the stereo channels to fine-tune the amplitude for the natural stereo image of multiple springs that can vary based on the spring material and the signal's frequency spectrum.
DSP operations are pipelined using the SSE2 (Streaming SIMD Extensions 2) instruction set to ensure high- performance operation, despite the RO-Spr plug-in's complex computations and a user interface that supports high pixel density on both macOS and Windows systems.
RO-Spr is available to purchase for US$129 as 64-bit AAX, AU and VST plug-ins for macOS (10.9 or later) and AAX and VST plug-ins for Windows (7 or later) from the Black Rooster Audio dedicated webpage.