G-Sonique has released a 64bit version of its Mid-Side: Creative Stereo-Phase filter+ VST processor, promising new creative ways of stereophonic sound modulation.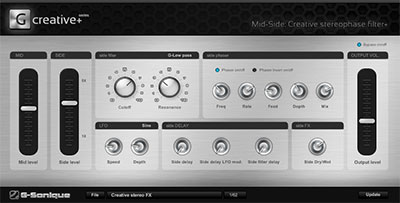 The plug-in creates 3D modulation effects with phasing/filtering the side channel, enabling sound to be animated while the centre (mid) of the sound remains solid. Resulats range from weird psychedelic modulation to side phase and filter effects, providing a useful and creative effect.
The Mid-Side: Creative Stereo-Phase Filter+ splits audio into mono (mid) and stereo (side) parts with levels being set separately The side signal has six adjustable parameters. Time modulation to delay it against the mid, or delay the filtered signal against the side signal, and use a floating delay modulation of the side signal by LFO.
There are nine types of 'analogue' filter available, alongside G-Filters modelled on code from DSP chips used in hardware synthesisers, and analogue low-pass filters modelled on vintage hardware keyboards/synths which can be modulated by a free-running LFO with four waveforms available.
'During development and testing, we found it very useful in production of styles like psychedelic trance and chill out, liquid funk/drum and bass, deep house, Euro/progressive trance as well as pop, funk, disco, nu-jazz, but Mid-Side: Creative stereo-phase filter+ is useful in almost all music styles, everything depends on your creativity,' the company says.
More: www.g-sonique.com