Waves Audio has released the CLA Nx plug-in, an emulation of Chris Lord-Alge's Mix LA studio control room for mixing on headphones.
'With CLA Nx, my studio can now be your studio,' says Lord-Alge. 'This is a way you can monitor how I monitor, and hear your mixes on your own headphones like you're in my control room. It's accurate – you can count on what you're hearing, and that's so important to mixing.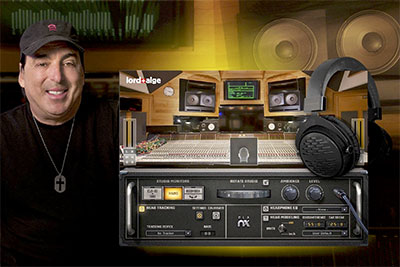 After modelling Lord-Alge's console and classic hardware gear in previous CLA-designated plug-ins, Waves and CLA have teamed up to replicate the Mix LA room acoustics and monitoring system. CLA Nx plug-in combines Waves Nx spatial audio technology with precise measurements of Mix LA, to create the acoustic response of room.
Built by the late studio designer Vincent Van Hoff, Mix LA has been Chris Lord-Alge's studio since 2008. This is the room he has trusted to deliver his mixes for Bruce Springsteen, Green Day, Muse and countless top artists. The complete monitoring set-up is now available over any headphones via CLA Nx. This includes the acoustic response of Lord-Alge's NS10-modelled CLA-10 close-field monitors, coupled with his subwoofer system; his custom Ocean Way HR1 far-field speakers, modified to his specifications; and the boombox he relies on to check how his mixes will translate to small-speaker devices.
CLA Nx is powered by Waves' Nx technology for immersive spatial audio, using channel crosstalk, inter-aural delays (ITD), filters (ILD), early reflections, head motion tracking and personalised head anatomy calibration to replicate the immersive experience of hearing audio in the real world. These elements are coupled in CLA Nx with precision acoustic measurements of the control room and adjustable levels of the studio's ambience to deliver a faithful three-dimensional 'out-of-head' representation of the Mix LA room.
CLA Nx also supports head tracking via a webcam or the optional Waves Nx Head Tracker Bluetooth device for enhanced realism of the immersive three-dimensional spatial effect.
The CLA Nx plug-in is Waves' latest release in a series that brings the world's studio control rooms to headphones, including Nx Ocean Way Nashville and Abbey Road Studio 3.
Key features:
Headphone monitoring plug-in for mix reference.
Precision model of Chris Lord-Alge's Mix LA control room.
Check mixes onthree sets of custom studio monitors.
Better reference for mix depth, panning, reverb, low-end response.
Compatible with all headphone models.
Adjustable studio ambience control.
Personalised head anatomy calibration.
Supports head tracking via webcam or the Nx Head Tracker.
More: www.waves.com