United Plugins has announced Electrum from Muramasa Audio, an all-in-one guitar amp/pedalboard plug-in.
Ergonomics are central to Electrum as a single-screen plug-in, providing users with the fastest way to turn ideas into sound using colour-coded amp, autowah, cabinet, compressor, delay, distortion, doubler, EQ, gate, modulation and reverb components, viewable as photorealistic 3D or flat 2D graphics without affecting the sound or CPU load.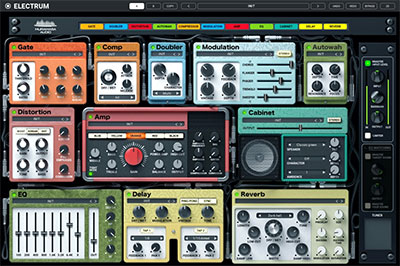 Readily reordering those components is simply a case of dragging and dropping them into the desired position in the effect chain, without adhering to real-world set-up constraints. Duly double-clicking on a component's colour-coded rectangle bypasses it or otherwise for further ease of use.
Five amplifier models – dubbed Blue, Yellow, Orange, Red and Black – are arranged from lighter touch to most extreme and share common controls, placing familiarity at the heart of the user experience.
Electrum's Cabinet section offers 16 loudspeaker sounds based on classic guitar cabinet loudspeaker measurements, customisable to produce more than 300 virtual cabinets. Acting as a virtual simulator with several parameters, including a bank of ambience responses to simulate the reflections from real cabinet surroundings, this part of Electrum produces smooth and natural sound by avoiding resonances present in almost all classic IRs (Impulse Responses).
The plug-in's Doubler section in Electrum provides an alternative to manual double tracking, producing a thick and wide sound without needing to record the same part twice.
Electrum also has a versatile Reverb section, featuring 18 algorithms simulating everything springs to plates and halls to rooms through to shimmer and ethereal reverbs with wide-ranging controls including Damp Low (LF absorption), Damp High (HF absorption) and Ducking (applied to the effected signal and following the dry signal) among others.
A flexible double-tap arrangement Sync synchronises Electrum's echo to the BPM of the host DAW, with delay options including Ping Pong, Modulation and Saturation. Electrum blends multiple effects into its Modulation section, serially applied as they appear – Chorus, Flanger, Phaser, Tremolo and Sweeper – on the GUI to allow users to quickly create unique effects with all algorithms automatically synchronised.
Electrum's Distortion provides three options – Boost for adding a little kick for the amplifier section; Scream for creating medium level distortion, and Dist for extreme metal styles. Again, all share common controls to ease operation and speed up workflow.
Other features include an advanced spectral analysis-based polyphonic tuner and easy-setup input level analysis and a wealth of professionally-programmed presets.