United Plugins has announced Expanse 3D from JMG Sound, a plug-in capable of processing tracks in three different dimensions to make them sound deeper, wider and bigger.
Employing complex audio processing techniques and balancing them with an easy-to-use interface, Expanse 3D offers control over Width Depth and Height (with two, three, and four associated algorithmic modes to respectively choose from). To achieve a three-dimensional perception of a signal, the plug-in uses a combination of analogue-type saturation, spectral phase offsetting, re-synthesis, delay networks and other processes aimed at mixing, mastering, and sound design.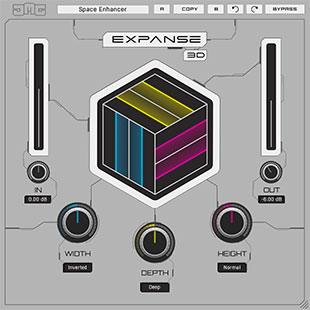 Width is an advanced spectral phase processor for creating extended width while remaining natural and transparent. Tight bass is achieved by reducing stereo from the sub while widening progressively up to higher frequencies. It is fully mono compatible, preserving position focus, and can generate stereo from mono. Normal and Alternate modes work in similar ways but using different frequency points, and each mode has a normal and an inverted implementation. Different modes can be used when separating elements – such as guitar and piano – so that they will not share the same frequency offsets.
Depth is a complex algorithm of delay networks with channel and phase processing that enhances the perception of depth and adds space. It can be used to add dynamic contrast between separate sounds and glue multiple elements together for a more cohesive mix. Modes available here have different delay times in the algorithm —Normal, which will work best on the majority of sounds as a default; Tight, which uses shorter delays, so will work better for percussive sounds, such as drums; and Deep, which uses larger delays resulting in a deep effect better suited to sounds with a soft attack.
Height helps make sounds larger than life by extending out the high and low ends. Expanse 3D generates additional harmonics to deliver deeper bass and brighter treble – unlike traditional EQ that boosts existing frequencies. It improves the perception of low frequencies on speakers less able to produce them while adding controlled power and punch to larger systems. Any audio exhibiting little low- or high-frequency content may be relatively unaffected by Height; however, this can be compensated for by extending the range of the processor with the associated Ext. Lo+Hi algorithmic mode. Ext. Lo assists audio with little bass and Ext. Hi assists audio with little treble, while Normal will be the best choice, especially for full mixes.
Those three dimension enhancers each implement finely-tuned saturation in their processing. By being modelled on analogue distortion, all nuances such as harmonic distribution, dynamic consistency, and nonlinear randomness are captured to add colour, assisted by anti-aliasing algorithms. All Expanse 3D processes are applied to the appropriate frequency ranges using high-quality filters causing zero phase shift with no latency, making them suitable for mastering.
Impact and energy can be improved when mastering using Expanse 3D, with up to 8x oversampling providing high-quality saturation to add analogue colour, while the additional harmonics help add clarity.
Intelligent bypassing with compensation for latency ensures that bypass states are in sync with each other with no clicks or harmful noises.
Like its Hyperspace, Transmutator and Orbitron siblings, Expanse 3D also intelligently detects whether it makes sense to perform processing at all by temporarily turning on sleep mode if no processing is required, reducing CPU usage to almost nothing, so saving valuable computing resources for other processes.
Expanse 3D is available to purchase at €99 as an AAX, AU, VST and VST3compatible plug-in (using internal 64-bit audio processing capable of handling any sample rate) for macOS 10.10 and newer and Windows 8/10 directly from United Plugins.