FabFilter has released FabFilter Timeless 3, the latest version of its tape delay plug-in offing new interface, five feedback circuit effects, additional filters, up to 16 delay taps, and improved filter and saturation algorithms.
FabFilter has upgraded the analogue-modelling algorithms, and claims 'the warmest filters and smoothest saturation yet, delivering epic echo-based effects of unrivalled clarity, presence, and character'.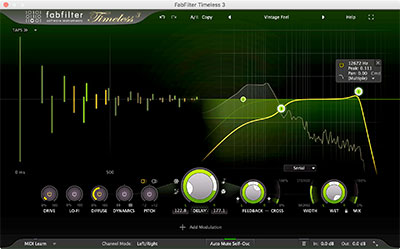 The plug-in's redesigned interface simplifies operation without compromising the feature set, and is presented with a new colour scheme promised to be easier on the eye during long sessions. The display provides intuitive visualisation and tweaking of delay time, feedback and mix settings, while full-screen mode expands the GUI for precise focus. Modulation sources and targets now visualise modulation signals with animated collars and tracks, and the new source flow area provides an overview of all active modulations.
Five feedback path effects use new 'one-knob' feedback modules – analogue saturation and digital distortion from Drive and Lo-Fi; 'reverb-ification' from the Diffuse knob; compression or gating from the Dynamics section; and feedback up to an octave up or down with the Pitch processor. All five processes are available as modulation targets, so they can be animated with Timeless 3's XLFOs, envelope followers, XY controllers, and Midi CCs.
Tripling the number of filters available from the previous version, Timeless 3 provides six multimode filters, each instantiated and adjusted directly in the interactive filter display, and offering a choice of high-pass, low- pass, band-pass, bell, shelf, and notch modes. All six can be used in series or parallel, or with three filters on each LR channel for cross-feedback-enhanced stereo effects.
The factory preset library has been rebuilt to maximise its usability, incorporating Timeless 3's new feedback effects and filters, and reorganised to make it easier to find the effect needed for any situation.
Key features:
Highly-simplified interface fir easy workflow.
New modulation engine.
Dual delay lines with host tempo sync and pan.
Tape delay or time-stretching behaviour when changing delay time.
Feedback, cross-feedback, phase inversion and ping-pong modes.
Up to six analogue-style multimode filters with filter panning.
Interactive delay and filter displays.
Up to 16 delay taps, controlled and modulated individually.
Delay freeze with modulation.
Visual feedback of modulation.
Stereo width control.
Mid/side processing.
Resizable interface with full-screen mode.
FabFilter Timeless 3 is now available for €109, US$129 or £94, supporting both Windows and macOS in VST and VST 3, Audio Units, AAX, and AudioSuite plug-in formats. Bundles with FabFilter Timeless 3 and other FabFilter plug-ins are also available.
More: www.fabfilter.com/shop