Used together, the H2 Audio Helios 2128 Microphone Pre-Amp and Helios 5011 Equalizer 500 Series modules reckong recreate the 0011 Type 69 input module from the legendary Helios console installed at Olympic Studios in the 1970s.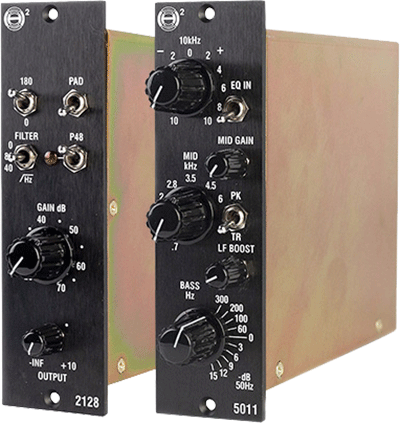 The H2 Audio Helios 2128 is a 500 Series microphone preamp delivering up to 70dB of gain with a simple feature set including a -20dB pad, polarity reversal switch and 48V phantom power. It also includes a high-pass filter (switchable between 40Hz, 80Hz or flat). The original design has been augmented with features for easy integration into modern workflows, including a Cinemag Input transformer and an output section with an output transformer and fader.
The 2128 recreates the sound of the Helios 0011 Type 69 preamp, with its larger-than-life sound, heard on recordings by artists including the The Beatles, Jimi Hendrix, The Rolling Stones, Led Zeppelin, Black Sabbath, David Bowie, The Who, Queen and Thin Lizzy. Matched pairs are available on request.
The 5011 is a 500 series EQ offering a painstaking recreation of the equalizer section from the Helios 0011 Type 69 input module, offering a 3-band EQ with a unique boost/cut low band and a high frequency shelf fixed at 10kHz. The mid band offers a choice of boost or cut with selectable frequencies ranging from 0.7 to 6kHz. Boost/Cut is selected via a three-way toggle switch while the amount is controlled via the Mid Gain control. The 5011 uses an electronically balanced input and transformer balanced output.
Key specifications:
2128 Mic Preamp
· Input Impedance: 3.3kΩ.
· Max Output: 27dBu.
· Gain Range: 25dB to 80dB.
· High Pass Filter: 40Hz, 80Hz, Flat.
· 48V Phantom power.
· Phase reverse switch.
· -20dB pad switch.
· Output level control.
5011 Equalizer
· Input Impedance: 15kΩ, electronically balanced.
· Maximum Input Level: 24dBu/27dBu (bypassed, engaged).
· HF Band: 10kHz ±10dB Boost/Cut.
· Mid-band Frequencies: 0.7, 1.0, 1.4, 2.0, 2.8, 3.5, 4.5, 6kHz.
· Mid-band Boost: 16dB.
· Mid-band Cut: -17.5dB.
· LF Boost Frequencies: 60, 100, 200, 300Hz @15dB.
· LF Cut: 3, 6, 9, 12, 15dB @50Hz.
Exclusive UK dealership of H2 Audio is handled by KMR Audio. The 5011 Equalizer carries price of £1095 inc VAT (£912.50 ex-VAT); and the 2128 Mic Pre-Amp of £895 inc VAT (£745.83 ex-VAT).