Nembrini Audio has released the Shimmer Delay Ambient Machine, combining reverb, pitch shifting and feedback in both DAW plug-in and iOS AuV3 formats.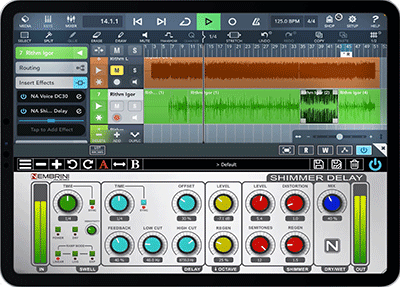 Equally suited to processing guitars, keyboards, synthesisers and vocals, the plug-in has an easy-to-use interface emphasising user control and playability, and is designed to be tweaked in real-time. Control parameters include Swell (auto-volume swell commonly used with electric guitar); Delay (main delay); down Octave (manages a down octave); Shimmer (manages the shimmer effect); and Dry/Wet signal balance, as well as input level and output level metering.
All controls have a smoothed response to avoid clicks when changing settings or applying automation, while the main delay algorithm readly generates huge delay sounds without straining CPU capacity.
Shimmer Delay Ambient Machine is available as an iLok-protected AAX, AU, VST2 and VST3 plug-in (macOS 10.9 or newer/Windows 7 or newer), and also in AuV3 format for iOS.
More: www.nembriniaudio.com/products/shimmer-delay-ambient-machine