Sound Particles has introduced the Brightness Panner plug-in, promising 'another way to pan sounds'.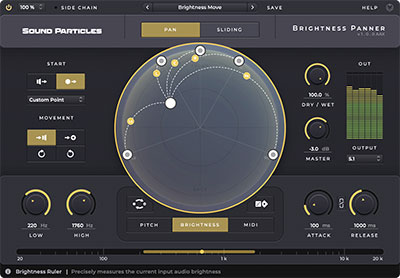 Brightness Panner uses brightness, pitch or Midi notes to control their movement automatically within spatial fields ranging from traditional stereo to 5.1 surround, Ambisonics and binaural, aiming to appeal to sound design and audio postproduction.
'After the success of Energy Panner, which we released in January, it became clear that this idea of dynamic panning – changing panning through time – had a lot to offer,' says Sound Particles CEO, Nuno Fonseca. 'The same way that we can use the intensity of the sound to control its position, as we do in Energy Panner, why not use other parameters like brightness or pitch to control panning too?'
Key features:
Brightness Analysis analyses the spectrum of sounds to pan them in 3D.
Pitch Analysis identifies the pitch of sounds to pan them in 3D.
Midi Analysis pans sounds in 3D based on note values.
Stereo, Surround, Ambisonics, Immersive and Binaural Outputs.
Dynamic movement.
Sidechain allows external signals to control the plug-in.
Randomization outputs new results each time it is used.
Brightness Panner supports AAX (native), VST, VST3, AU and AUv3 formats.
More: www.soundparticles.com