Empirical Labs has announced the Arousor Rev 3 compressor plug-in, expanding the capabilities of its Distressor hardware counterpart with the addition of two opto compression modes, additional compression ratios.
Borne out of company founder Dave Derr's love of classic compressors, Arousor is the only native Distressor plug-in produced by Empirical Labs.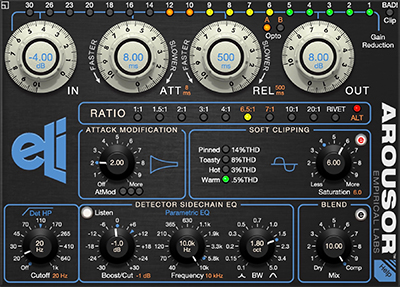 The new opto (A and B) compression modes are based on the time constants of classic and a modern LA-2A compressors, while a soft clipping expert panel allows second harmonic distortion control and the ability to place the compressor input before or after the soft clipping circuit Listen mode to allow users to hear what frequencies are affecting the Detector Sidechain EQ's compression detector; additional 6:5:1 and 7:1 ratios for expanded dynamic possibilities; and an enlargeable GUI that doubles its original size for more comfortable onscreen editing.
Empirical Labs' knee compression with high-resolution detector modelling remains at the heart of the Arousor Rev 3, with 12 compression ratios including brick wall (Rivet mode) for maximum gain reduction. Other retained features include an adjustable broadband soft clipping control for introducing warm saturation; an atmod attack modification control to change the shape of the initial attack; a high-pass/band-pass detector sidechain EQ for fine-tuning compression detector response; and mix knob with (e panel-enabled) Dry Level Trim for parallel compression.
Arousor Rev 3 is available as an AAX-, AU, VST2 and VST3 64-bit plug-in for macOS (10.7 or higher) and AAX, VST2 and VST3 64-bit plug-in for Windows (7 or higher) at an MSRP of US$199.