Nembrini Audio has announced the Voice DC30 plug-in, modelled on a vintage Vox AC30 Top Boost Reverb, the iconic British-built 30W 2x12 combo guitar amplifier.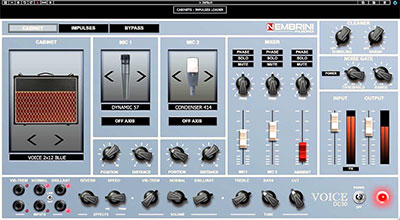 Iconic in both name and tone, the Vox AC30 Top Boost Reverb (produced from 1979 through to 1984) is readily recognisable for its 'jangly' high-end sound – a quality that Nembrini Audio has targeted with its analogue saturation circuits modelling.
The Voice DC30 could be viewed as a vintage Vox AC30 Top Boost Reverb plug-in but with a host of additional features aligned to present-day production.
It is possible to select between six different guitar cabinet emulations and four microphone emulations with on/off-axis position switches, and continuous Position and Distance control. Additionally, a mixer section with Phase, Solo, Mute and Pan controls allows blending of Mic 1, Mic 2, and Ambient levels. Above and beyond this, the Impulses Loader lets users load up to three third-party impulse responses that can also be blended with dedicated Phase, Solo, Mute and Pan controls. Additionally, an Impulses Browser window is included so that users can easily search through their third-party impulse response files. Finally, there is also a nosie gate section with threshold and range controls alongside a Cleaner circuit with Harsh and Rumbling reduction controls.