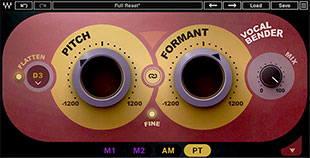 Waves Audio has released the Vocal Bender voice manipulation plug-in.
Vocal Bender plug-in allows manipulation of vocals in real time, creating some of the most popular sounds in hip-hop, pop, R&B and electronic music genres. On the subtle side of its application, the process adds soft harmonies, vibrato or vocal doubling for thickness.
Waves says that it created this tool for musicians and producers to get ideas down quickly, saving time when working creatively. It allows tracking through the plug-in, so that pitch and formant effects can be heard while recording. Its latency allow supports use of Vocal Bender in live performance.
In addition to the main Pitch and Formant controls, the plug-in has a Flatten feature to lock into a single pitch and sound robotic. There are also four extra modulators, including LFO and sequencing. With a few clicks these can be used to add vibrato, drop pitch, generate sequenced pitching and other effects.
Key features:
Real-time monophonic voice manipulation.
Easy vocal pitch shifting and formant control.
LFO, Seq, Amplitude and Pitch modulators.
Flatten feature for robotic vocals.
Mix knob for blending harmonies and doubles on inserts.
Zero latency.
Vocal Bender is included in Waves' Mercury, Pro Show and SD7 Pro Showbundles.