MAAT Incorporated has released thEQblue v3.0, a cross–platform plug-in for correction and aesthetic equalisation of music as well as motion picture and game audio. The new version claims a 'world's first' in the addition of the FiDef digital audio process.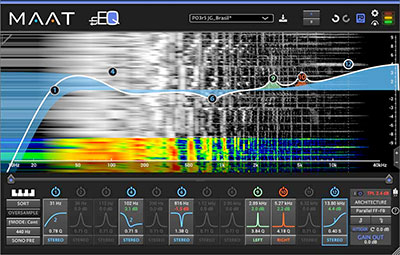 Available for select workstation platforms, thEQblue v3 builds on the foundation of MAAT's original, while adding a new layer of subtle refinement to the reference quality minimum phase equaliser. FiDef is a proprietary psychoacoustic process, developed in cooperation with neuroscientists and DSP experts, that activates a receptive listener's subconscious. It makes digital audio content more compelling and brings audiences closer to the emotion of the music.
Since their introduction, both thEQblue and FiDef have been embraced by top echelon audio professionals. Friedemann Tischmeyer, one of MAAT's co-founders, was an early proponent of FideliQuest. 'We all know it intuitively, but your brain really does hear more than you might think,' he says. 'Clients love it – we have put my outboard gear on notice!.'
FiDef has found a home in the workflows of practitioners from producer Gary Katz, to engineers Elliot Scheiner and Frank Filipetti, who described it as 'the best of the mix and the emotion of the mix… extremely effectively.'
MAAT's thEQblue plug-in is available in all current formats, including cross-platform AAX, VST2 and VST3, as well as AU for macOS. Perpetual licences for thEQblue are available in two tiers – thEQblue6 offers six series equaliser architectures, while thEQblue12 extends the licence to include the set of all ten series plus two parallel architectures.
More: www.maat.digital