United Plugins has announced Voxessor from founding partner SounDevice Digital, a combined voice treatment processor plug-in aimed at recording voice for commercials, e-books, movies, podcasts and YouTube.
Voxessor begins by allowing its users to speedily sweep for ideal equalisation., bypassing the process of manually applying EQ, through its man to guy to woman to girl EQ settings – suitable for working with the deepest and most manly voices to gentle female speech..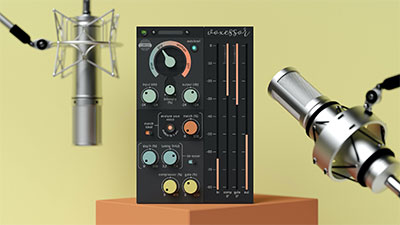 This feature can be combined with the processor's intelligent matching expertise – engaging the analyze voice (learn) button allows Voxessor to detect the voice characteristics of the person speaking, then the match control can be used to apply EQ accordingly.
Voxessor's autolevel automatically fixes volume deviations inherent in a speaking person's performance to achieve a smooth and flow for further perfecting voiceovers – useful during performances involving longer-lasting stretches of sustained speech, such as documentary or e-book narration. A (switchable) de-esser features tuning (kHz) and depth (%) controls to allow users to choose the best frequency band to work with while minimising adversely effects on the original material.
Voxessor also features a smart dynamics section with one-knob compressor (%) and gate (%) controls. All are set internally, tuned to work with dialogue and voiceover applications, although could be also applied to vocal tracks.
The GUI is designed to give an impression of working with physical hardware wthrough a series of onscreen meters: in (indicates the input signal volume); comp gr (indicates the compressor gain reduction); gate gr (indicates the gate gain reduction); and out (indicates the overall output level).
Before leaving Voxessor, automatic gain compensation constantly adapts to the current settings to ensure that the plug-in's output sounds as loud as the input.
SounDevice Digital's Voxessor is available at €129 as an AAX, AU, VST and VST3-compatible audio plug-in directly from United Plugins.