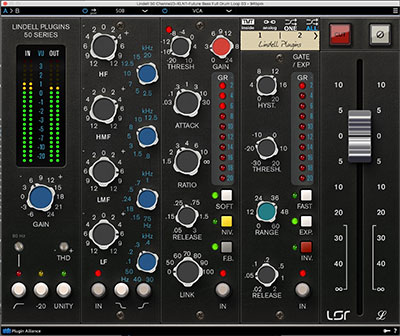 Swedish Plugin Alliance, partner Lindell Audio reckons to bring the sound of classic API analogue circuitry to in-the-box working with a new as a channel/bus strip plug-in based on Tolerance Modeling Technology (TMT) licenced from Brainworx.
Brainworx's patented TMT promises users of the Lindell Audio 50 Series access the most convincing model of these classic consoles to date, including the slight channel-to-channel variances in the values of their analogue components.
Rather than an array of dynamics and EQ section options, users can switch between flavour of the classic 500-series modules for use on buses or individual tracks.
There are three classic EQs – the semi-parametric 50A EQ for three-band processing, the 50B for four bands, and the 60 as a precision graphic EQ. The VCA compressor models API's high-end 2500 series compressor, with additional controls to improve upon the original with a FET compressor that replicates the simplicity and ease of use of the original the API 525 compressor.
In all, there are 72 different TMT channel emulations in the plug-in – three switchable EQs modelled on the most popular 500 series lunchbox designs; two switchable compressors; API noise gate and expander emulation; API preamp tone capture with automatic gain compensation; continuously variable THD and virtual Gain controls to add saturation and/or simulated analogue noise independently or globally; and a scalable UI to adapt to different screen sizes and workflows.
The Lindell Audio 50 Series is available as an AAX AudioSuite, AAX Native, AU, VST2 and VST3- plug-in for macOS 10.9 through 11.01 and Windows 7 through 10) at US$349.
More: www.plugin-alliance.com/en/products/lindell_50_series.htmlww.plugin-alliance.com/en/products/lindell_50_series.html