Eventide Audio has introduced the H9 Plug-in Series Bundle for Windows and Mac OS-X DAWs, comprising 11 key effects from the H9 Effects Processor.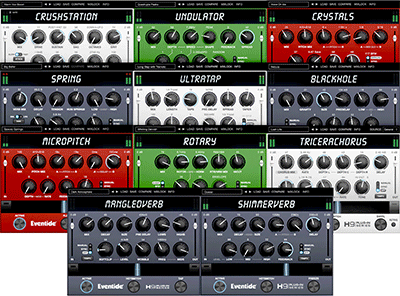 Individually, each of the effects in the bundle offers a range of options around specialised functions. Combined, they are a toolkit for sonic expression and manipulation. Eventide's Blackhole offers expansive control to exploit ambient reverb as a creative effect. Classic hardware effects are replicated and expanded beyond emulation, with the spring reverb tank reborn in Spring, and the full range of control and sounds expected from a physical Leslie cabinet and more in Rotary Mod. ShimmerVerb packages the production technique of paired pitch-shift and reverb with effect-optimised control parameters.
There are also combined-effect plug-ins: MangledVerb feeds a tailored stereo reverb into a distortion algorithm, while TriceraChorus pairs classic bucket-brigade-delay style chorusing with Eventide's MicroPitch detuning. Undulator adds sustain, shape and motion with the combination of two multi-tap delays, two detuned voices, and an FM modulated tremolo. CrushStation offers a huge range of distortion effects by building on stereo overdrive/distortion with the addition of three-band EQ, compression, upper and lower octave mixing and the sound signature of failing vintage analogue hardware. UltraTap is a versatile multi-tap delay effect, MicroPitch allows fine-tuning of left and right delay channels (and doubles as a mainstay delay), and Crystals combines twin reverse pitch shifters with reverse delays and reverb.
All H9 Series plug-ins feature the Ribbon control, which allows the effect to be swept between two different settings of any combination of controls. The Ribbon can be automated as well as Midi controlled. Several of the H9 Bundle plug-ins incorporate other H9 performance buttons – Hotswitch, Freeze, Flex and Swirl.
The plug-ins in the H9 Bundle double as studio quality effects and live performance tools. The bundle comes with over 500 presets across all plug-ins, including artist, engineer and producer presets by Richard Devine, Matt Lange, Vernon Reid, Chris Carter, Sasha, Flood & Alan Moulder, Damian Taylor, Nick Hook, Dalek and Lady Starlight.
The H9 Plug-in Series Bundle for OS-X and Windows supports VST, AAX, and AU plug-in protocols for compatibility with all DAWs. It is free to registered H9 Max owners until the end of 2020. Upgrades and crossgrades from the Eventide Anthology XI are also available.
More: www.eventideaudio.com