Eplex7 DSP has released VD76 plug-in VST (for Windows, 32-bit / 64-bit), emulating the circuitry found in various vintage vacuum tube outboard units.
'Thanks to more than 17 years of experiences with digital sound processing and education in analogue electronics, we created unique algorithm simulating real vacuum tube in very realistic way,' the company says. 'Our virtual analogue circuit simulation technology also recreates real analogue circuits around tubes which significantly affect sound of whole tube devices such as production of first harmonics and very fat sound.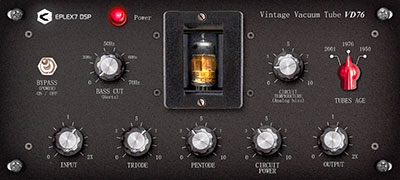 'While most of digital tube plug-in emulations just produce digital distortion and unwanted, harsh sounding digital artefacts which are amplified after mastering/limiting – and not so much rounding of transients – you can hear significant difference when testing and comparing with our analogue simulation algorithms.
The first thing you can hear is that transients and trebles are really softer, rounder and more pleasant to the ear; there is no digital distortion, but nice analogue saturation.'
Designed for use on drums, electronic and acoustic, bass, synthesisers, guitars, vocals and percussion, plug-in
Features: an input control that can be used to bring more colour and saturation, as well as setting for triode (fatter and warmer type saturation of triode tube saturation) and pentode (more vintage, thin and dirty saturation). The Circuit Power control adds heavy 'fatness' suited to bass and drums. The Bass Cut filter is effective from 0–7Hz to eliminate deep subbass.
The Tube Age switches between three types of valve – 2001 (bright, modern and precise sounding), 1950 (old vintage tube with round transients and dark smooth sound) and 1976 (vintage tube with silky round transients, trebles and a crunchy sound)
More: https://eplex7.com/vintage-vacuum-tube-vd76-plugin-effect-vst