United Plugins has released FireCharger, a universal processing plug-in from founding partner FireSonic that uses an intelligent algorithm for spectral processing including emulations of analogue tape and audio exciters.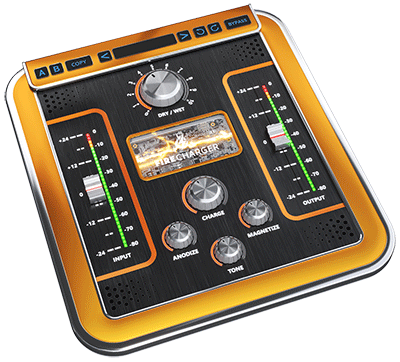 FireCharger analyses audio material to get it as close as possible to what its creators consider to be a better-balanced, richer sound. So let's take a guided tour around its easy-to-use functionality via its equally-easy-on-the-eye
Each enhancement algorithm can be controlled separately – Dry/Wet defining overall level of enhancement, starting with Charge, which is the main control for FireCharger's spectral dynamics processing: smooth and improve the signal with one knob and its intelligent analysing and processing algorithm. Anodize adjusts the amount of energy that the treated track(s) will temporarily gain using the Charge when required.
Magnetize controls the vintage tube tape machine saturation simulation, to add additional warmth and a live feel to the sound being treated. The Tone control is a dynamic height exciter, makiing higher frequencies more pronounced and the treated track(s) brighter as a result.
FireCharger features input and output peak meters and gain controls. The input level should stay, say, within the -10dB to -30dB range for optimum results.
Top toolbar-based functionality featured above those onscreen knobs and faders include A, B and Copy buttons – clicking A and B switches between two recallable settings, so very useful for double-checking before committing to the best-sounding result, while Copy duplicatesthe selected setting to the other slot.
FireCharger comes with a set of preloaded presets, suited to most applications, users can save and manage their own presets. FireSonic plug-ins management of its bypass ensures that there are no audible click or harmful noises when automating the parameter, and also compensates for latency by ensuring that the bypass states remain in sync with each other.
FireCharger can serve as a mastering plug-in positioned at the end of the host DAW output chain, as well as to treat single tracks.
FireSonic's FireCharger is available as an AAX, AU, VST and VST3 audio plug-in directly from United Plugins. A 15-day, fully-functional trial version for macOS and Windows can be downloaded for free.
No iLok, dongle or internet access is required for FireCharger activation, as all United Plugins software uses licence files for activation; owners can freely use purchased software on all computers as long as they are the user.