Spatial audio software and VR/AR specialist Dear Reality has released the dearVR Monitor plug-in, promising to bring a control and mixing environment to any room through headphones.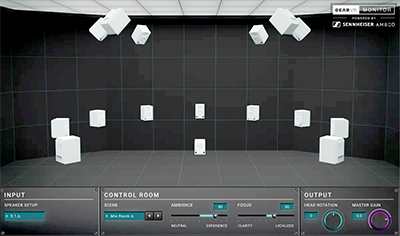 'dearVR Monitor combines an ideal virtual studio with the analytical advantages that good monitoring headphones offer,' explains Dear Reality co-CEO, Christian Sander. 'The plug-in delivers an acoustic reference no matter where you are mixing.'
'We felt it would not make sense to recreate famous real-world control rooms,' adds c co-CEO Achim Fell. 'As a sound professional, all you basically need is a monitoring environment you can rely on and feel comfortable with. And this is what the software accomplishes – removing limitations of poor room acoustics, creating a standardised mixing environment and enabling you to fully trust your ears.'
dearVR Monitor offers a choice of five representative mixing environments, with the ability to fine-tune the acoustics by adjusting Ambience ('how much reflection should the room have, how vivid it should sound') and Focus ('immersive sound vs localised sound source') based on the Clarity algorithm found in Sennheiser Ambeo.
The plug-in allows users to select between 32 common speaker set-ups – from stereo to 7.1.4 and 9.1.6 – and monitor them directly on headphones.
dearVR Monitor not only provides the consistent monitoring environment required for professional mixes but also allows users to check how their material would sound in typical listening environments. Dear Reality has created 11 of these typical environments, for example club or living room, so that users can be confident that their mix creates the same great impact no matter where listeners are enjoying the track.
In the Output field, users can adjust the gain and also select their listening direction within the sound field by turning the virtual Head Rotation knob.