Spitfire Audio and Abbey Road Studios have announced a series of film scoring samples captured in Abbey Road Studio One.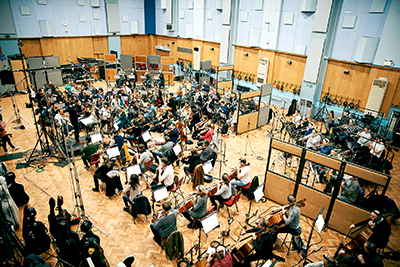 'This is a massive creative partnership – so much so that we're developing a number of new ranges, the first of which is called Abbey Road One: Film Scoring Selections,' says Spitfire Audio co-founder, Christian Henson. 'The first product within this range, captured in this iconic space, is Abbey Road One: Orchestral Foundations, which is, as it describes, the foundation – the starting point – of this journey that we're going to take everyone on.'
Abbey Road One: Orchestral Foundations features a full, symphony-sized orchestra recorded inside the world's largest purpose-built recording studio, with world-class first-call musicians recorded by four-time GrammyAward-winning engineer Simon Rhodes using Abbey Road Studios' selection of microphones.
The result is an easy-to-use expandable virtual instrument library, divided into into strings, woodwind, brass and percussion, pre-orchestrated for established music-makers (wanting to quickly sketch an idea at high quality) and newcomers (learning how to write for an orchestra) alike.
Abbey Road One: Orchestral Foundations provides sounds from a symphonic ensemble-based library, courtesy of a 90-plus strong orchestra, comprising strings (16, 14, 12, 10, 8); brass (four horns, four trumpets, three trombones, two bass trombones, one contrabass trombone, one tuba, and one contrabass tuba); and woodwinds (one piccolo, two flutes, two oboes, one cor anglais, two clarinets, one bass clarinet, two bassoons, and one contrabass bassoon); plus percussion (performed by three players on a huge selection of instruments).
'While nothing compares to recording a 90-piece orchestra in Studio One, we wanted to enable aspiring composers and seasoned pros alike to obtain a degree of that magic from the comfort of their own creative spaces,' says Abbey Road Studios Head of Audio Products, Mirek Stiles. 'For a lucky few, Abbey Road One will provide a sketch pad for themes to be signed off by directors, knowing those same notes will be replayed by musicians within the bricks and mortar of No 3 Abbey Road; for others, this will be an inspirational first taste for dreams yet to be fulfilled. Then there will be the rule-breakers from unexpected genres using Abbey Road One as a creative tool in its own right, in non-conventional ways. I'm thrilled that Abbey Road Studios has finally partnered with the innovative and creative minds at Spitfire Audio.'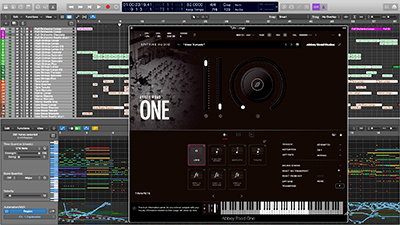 Kickstarted by John Williams' score for Steven Spielberg's Raiders of the Lost Ark, Abbey Road Studios is one of the world's premier destinations for film scoring, and has since been home to numerous notable film scores, all benefiting from the acoustics of Studio One, the world's largest purpose-built recording studios.
'Abbey Road, for most people, is synonymous with The Beatles, but for us film composers it is synonymous with the sound of cinema,' says Henson. 'The whole idea behind Spitfire Audio was to approach recording samples exactly the same way you would film scores – same place, same microphones, same people, so it's only natural that we would end up in this iconic location. You can get 200 players in here, which gives you a lot of scope for that kind of big Hollywood sound, but also it probably has the best microphone cupboard in the world.'
'There's a magic in the air, and it's the essence of composers who've recorded here – incredible composers, like John Williams, Jerry Goldsmith, Alan Silvestri, Thomas Newman... Edward Elgar, of course,' adds Spitfire Audio co-founder Paul Thomson. 'Almost everybody on the planet will have heard a piece of music that has been recorded in this room.'
'Orchestral Foundations will be accompanied by a range of smaller, more focused selection libraries, covering different playing styles and different groups of instruments, but with a very specific focus with each package,' Thomson adds..
Abbey Road One: Orchestral Foundations is available to pre-order as an AAX, AU, VST2 and VST3, NKS-ready plug-in that loads directly into a DAW at a cost of £399 (inc VAT)/US$449/€449.00 (inc VAT).
More: www.spitfireaudio.com/shop/a-z/abbey-road-one-orchestral-foundations