Rupert Neve Designs has announced the new 5254 Dual Diode Bridge Compressor and updated the Portico II: Master Buss Processor.
The 5254 Dual Diode Bridge Compressor contains two channels of diode bridge compression, based on the dynamics circuit in the company's Shelford Channel.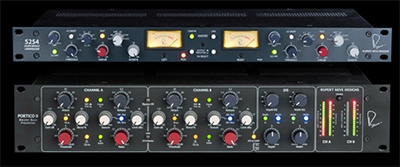 According to the company: 'Rupert Neve's early diode bridge compressors have been revered by engineers since the early 1970s, but their desirable characteristics were unfortunately accompanied by inflexible controls and fairly limited versatility.'
The Dual Diode Bridge Compressor was designed 'to capture the soul of these coveted compressors while providing modern updates' including advanced timing control, significantly lower noise, fully stepped controls throughout, higher voltage power rails and internal parallel processing.
The unified Timing control comprises six selectable settings for different applications, with a Fast button to increase the speed of both attack and release times for each setting, effectively doubling the number of time constants from six to 12. Faster Timing settings induce more harmonic content, while slower settings will result in more transparent compression – these constants adapt themselves depending on ratio, threshold, and source material. The company believes that it is this dynamically generated timing shift and harmonic content that give the unit its personality.
The Dual Diode Bridge Compressor can be operated in either dual mono or stereo linked configurations, with two vu meters displaying either gain reduction or output level. It also includes Rupert Neve Designs' custom audio transformers and class-A line amplifiers, 31-position detented controls, full-wave side-chain detection for improved accuracy, a sweepable side-chain high-pass filter and external side-chain insert, and an internal universal power supply that works worldwide on 90-240V AC.
Alongside the Dual Diode Bridge Compressor, Rupert Neve Designs has made the Master Buss Processor available with new black cosmetics – by popular request, and celebrating the company's 15th anniversary.
Both units are shipping worldwide in late October 2020, with a manufacturer's suggested retail price of US$3,599 for the 5254 and US$3,995 for the Master Buss Processor.
More: http://rupertneve.com