Spanish company Wavesfactory has announced the Echo Cat plug-in, an emulation of the classic Watkins Copicat tape echo, that revives the original sound and adds modern features including ducking, M/S and tempo sync.
Invented in 1958 by Charlie Watkins, the Copicat delay was used in the recording of countless albums from the 1960s/70s, and onstage, by the likes of The Shadows and Pink Floyd. Primarily designed for guitar, it's now a sought-after piece of equipment in studios around the world.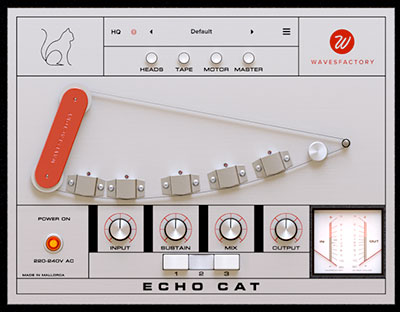 Echo Cat – the company behind the Trackspacer, Cassette and Spectre plug-ins – has revived the sound and behaviour of the original unit with tape simulation and three playback heads. delay times, filters on the feedback path, varispeed, modulation and ducking.
Each head can be controlled in detail – it can be time synced to the tempo of the host or set freely in milliseconds. Volume, pan and LP/HP filters are included for each head. Three led indicators show you if there is signal present on the selected head.
Echo Cat Includes mono/stereo hiss, artifacts containing wow and flutter for recreating the fluctuations of the tape speed, tape age with asperity noise and erasures, and signal loss which is random high frequency compression. The Loop Gap parameter mimics the tape loop joint, where the tape is physically looped.
The Motor section offers control over mains hum and Varispeed, which appeared on one Copicat model from the 1970s, for motor speed control. With Echo Cat the user can also modulate the Varispeed amount using a LFO. Make Echo Cat can be made to operate in mono, stereo or fake stereo with a 5ms delay only in the right channel.
System requirements: macOS 10.7 or higher, 64-bit DAW and OS; Windows 7, 8 or 10, 64-bit DAW and OS.
Key features:
Authentic tape behaviour simulation.
Precise audio control of each head.
Motor control.
Tempo sync.
Ducking feature.
M/S.
Highly configurable filters.
Stereo widener.
Low tape cost and minimal head wear during plug-in lifetime.
See also:
Echoes from the Past (blog)