LiquidSonics has announced its latest reverb plug-in, the Reverberate 3 modulated true-stereo convolution reverb.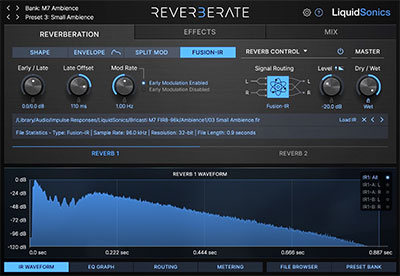 Loaded with effects and modulation options ranging from the 'subtle to the sublime', Reverberate 3 offers editing and modulation tools to refresh and enliven a third-party stereo and true stereo impulse responses. A cornerstone of Reverberate 3 lies in LiquidSonics' proprietary modulated capture and playback technology format – Fusion-IR – an innovative approach to convolution capture and playback creating organic reverberation that evades traditional static convolution.
New in Reverberate 3 is the ability to independently adjust the late reverb pre-delay without disrupting the integrity of the sampled reflections, and Enhanced True Stereo Simulation that modulates the simulated crossfeed channels without impacting the structure and onset characteristics of the sampled reverb.
Reverberate 3 also features pitching and non-pitching delay and time modulation features to apply dramatic or natural modulations to any static impulse response, a completely redesigned interface and new factory presets – two Fusion-IR sample packs available for download (FS-24x and FS-48).
Additionally, there is more comprehensive parameter locking throughout the interface, support for VST3 and licencing via iLok USB, Cloud and local host (including two activations per licence).
Reverberate 3 supports all major 64-bit DAWs on Windows and macOS, and requires iLok 2/3, iLok local computer or iLok Cloud for authorisation. It also requires 600MB hard disk space and at least 8GB of main memory is recommended. Running requirements include a 64-bit DAW, Windows 7 or above and OS-X/macOS 10.9 or above. VST 2.4, VST3, Audio Unit and AAX Native plug-in formats are all now supported.
More: www.liquidsonics.com