Accusonus has announced the 'biggest update yet' to its Era clean-up tools for video and audio. Era 5 brings new plug-ins to enhance and repair low-quality audio, as well as improvements across the board to existing plug-ins. Era 5 Bundles are being announced in parallel with SFX Cellar, Accusonus' new library of royalty-free sound effects.
The new Era 5 Bundle adds Voice AutoEQ, Voice Deepener and Audio Cleanup Assistant to the existing Noise Remover, Reverb Remover, Voice Leveler, De-Clipper, De-Esser and Plosive Remover plug-ins.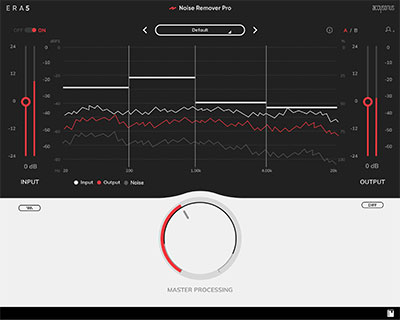 Era Voice AutoEQ automates the audio equalisation process to address muddy recordings and make a voice track stand out in the mix. Era Voice Deepener is designed to add warmth and depth to voice, while Era Audio Clean-Up Assistant makes audio workflow faster and smarter by hosting and adding preset chains of the Era single-dial plug-ins. In addition, all existing Era plug-ins have been improved and the new engines can now handle more complex audio repair cases.
Era 5 Pro Bundle includes all Standard Bundle plug-ins, and adds four plug-ins for multi-band processing. The new Noise Remover Pro and Reverb Remover Pro offer refined spectral controls to tailor processing on key frequency ranges. Running as an AudioSuite plug-in in Pro Tools, the Room Tone Match identifies the background ambience under speech and helps 'stitch' and even out different ambience beds.
SFX Cellar is a royalty-free sound effects library of background ambiences, nature and weather sounds, transitions, impacts, whooshes, UI effects, thuds and cinematic soundscapes. Accusonus aims to add further sounds monthly. Continuous updates to the web platform will ensure fast and intelligent sound discovery. The Cellar library as SFX Cellar mp3 (unlimited, royalty-free sound effects in mp3 format) and SFX Cellar Premium (unlimited, royalty-free sound effects in wav format with metadata).
Accusonus Era 5 Bundles and the SFX Cellar are now available through flexible monthly and yearly plans, depending on creators' audio needs. Era 5 perpetual licences are available and come with one-year support and free 5.x updates.
More: www.accusonus.com