Unfiltered Audio has released the Bass-Mint low-frequency enhancement plug-in, designed to rapidly improve the bottom end of individual tracks, stems and mixes.
Bass-Mint uses a simple frequency splitter with an adjustable cut-off, separating the low from the high band to allow different types of processing on each. From here, each of the five main modes (Saturate, Resonate, Octave, Synthesize and Overfold) each access Cutoff, Strength, Soften, Shelf and Clarity controls to allow the signal to be modified. Further control is provided via Anti Rumble, Mid Only, Solo Bass, Mono Bass, Soft Clip and Bypass options on the right side of the plug-in GUI.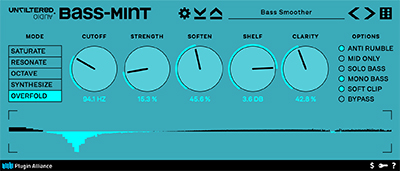 Bass-Mint makes use of one of the most popular saturation algorithms from its Southern Californian creator, Dent – a distortion/wave-shaping plug-in with feedback via its Visualizer showing real-time spectral change.
'Spanning subtle enhancement of low-end frequencies to totally reshaping the frequency spectrum from the subs on up, truly wild things are possible with this plug-in,' the author claims. 'Whether wishing to really mess things up for super-dirty-sounding bass or simply bringing kicks and bass into better balance, Bass-Mint can practically do anything anyone would want to do to their lows.'
Unfiltered Audio Bass-Mint is available as an AAX Native, AU, VST2 and VST3 plug-in for macOS 10.11 through 10.15 and Windows 7 through 10.
More: www.plug-in-alliance.com