G-Sonique has updated its Dubmaster Liquid Delay to include a native 64-bit plug-in – offered as a free update to owners of the 32-bit version.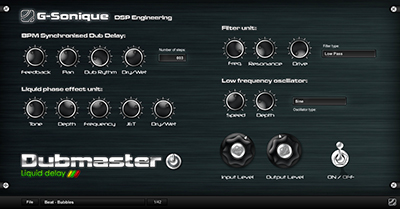 Dubmaster Liquid Delay is a BPM synchronised delay with special feature called DubRhythm, which allows setting of smooth non-rhythmic distortion characteristic of Jamaican Reggae and Dub tracks. It includes all the necessary features for setting the wide spectrum of various sound echoes, including the number of stages, feedback amount and LR pan.
The original liquid sound is also generated by a FX module called Liquid Phase – a modulation effect which combines a specific phase modulator and flanger to produce a wide spectrum of variously coloured echoes from crystal clear through stoned Jamaica vintage to psychedelic twisted modulations.
The original liquid sound is enhanced by a filter unit with modelled Low-pass, Band-pass and High-pass filters with adjustable Cut-off, Resonance and adjustable Drive, which makes the classic saturated distorted sound. In addition the Dubmaster Liquid Delay contains a free-running LFO that can modulate the filter by the saw, sine, triangle and square waves with adjustable level of rate and depth.
Key features:
BPM Synchronized Dub Delay.
DubRhythm non-rhythmical time distortions.
Module for set-up number of echo stages (1-8).
Liquid Phase effect unit.
Virtual analogue filter.
Free running LFO.
Digital algorithms written in C++ /Assembler.
More than 40 presets for drums, guitars, bass and other instruments.
More: www.g-sonique.com