Waves Audio has released the Kaleidoscopes plug-in, a super-suite of phaser, flanger, chorus and tremolo sounds, crafted from the best analogue modulation studio classics. Waves regards Kaleidoscopes is 'the cumulative result of more than half a century of recorded music'.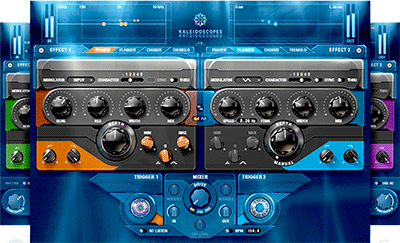 The plug-in's Dual Cascade engines enable any two effects to be combined or 'cascaded' to make drums, vocals, synths and guitars breathe, and give mixes depth and colour.
Waves has handpicked all-time-favourite analogue effects from legendary eras – 1960s phasing and tape flanging, 1970s stadium tremolo-guitar vibes, 1980s chorus – instilling the analogue tones into Kaleidoscopes' DNA. Kaleidoscopes' Dual Cascade architecture gives two FX engines, which you can be configured serially or, alternatively, run in parallel for super-wide soundscapes.
On each of the two engines is a choice can of a selection of waveshapes, or any sidechain signal from a DAW session, to be the modulation input. There is control over Speed, Resonance, Width and Depth of the modulation, plus filter settings and mix knobs. There are also five effect 'characters' for different analogue flavours, and tempo-sync the modulation effect to a DAW session to keep things consistent every time a song is re-opened.
Since Waves built this plug-in for musicians, producers and engineers, there is an added Thru Mode for that 'stompbox sound', with the dry signal on one channel and the wet signal on the other.
With its Trigger section, Kaleidoscopes plug-in becomes an extension of playing technique. By setting input-sensitive envelopes and adjusting intelligent triggers, two effects can be made to 'listen' to playing and respond dynamically, reflecting nuances of emotion and feel.
Key features:
Phaser, Flanger, Chorus and Tremolo super-suite.
Best-of palette of analogue modulation sounds based on studio classics.
Dual Cascade architecture.
Intelligent Triggering.
Selectable modulation sources: input, sidechain & diverse waveshapes.
Speed, Resonance, Width, Depth and Mix controls per modulation engine.
Thru Mode for 'Wet/Dry' rig effect.